STOPPING THE SUN'S RAY FROM ENTERING THE WINDOWS HELPS TO AVOID THE ROOM BEING HEATED UP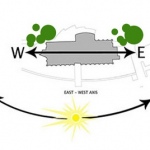 Choose your plot carefully,
so you can build with short walls facing East and West, and long windowed walls facing North and South only!
COOLTEK is aligned at a 45 degree angle to the road, in order that the short and blind walls are facing EAST and WEST and the long, windowed walls face SOUTH and NORTH.
Click on any of the links below (in blue) for more information

Air conditioned area aligned with short blind walls facing East and West, so that the low sun cannot enter the building; long windowed walls facing South/North to let in the natural light and allow views of the golf course and surrounding vegetation.