ASEAN ENERGY AWARDS 2009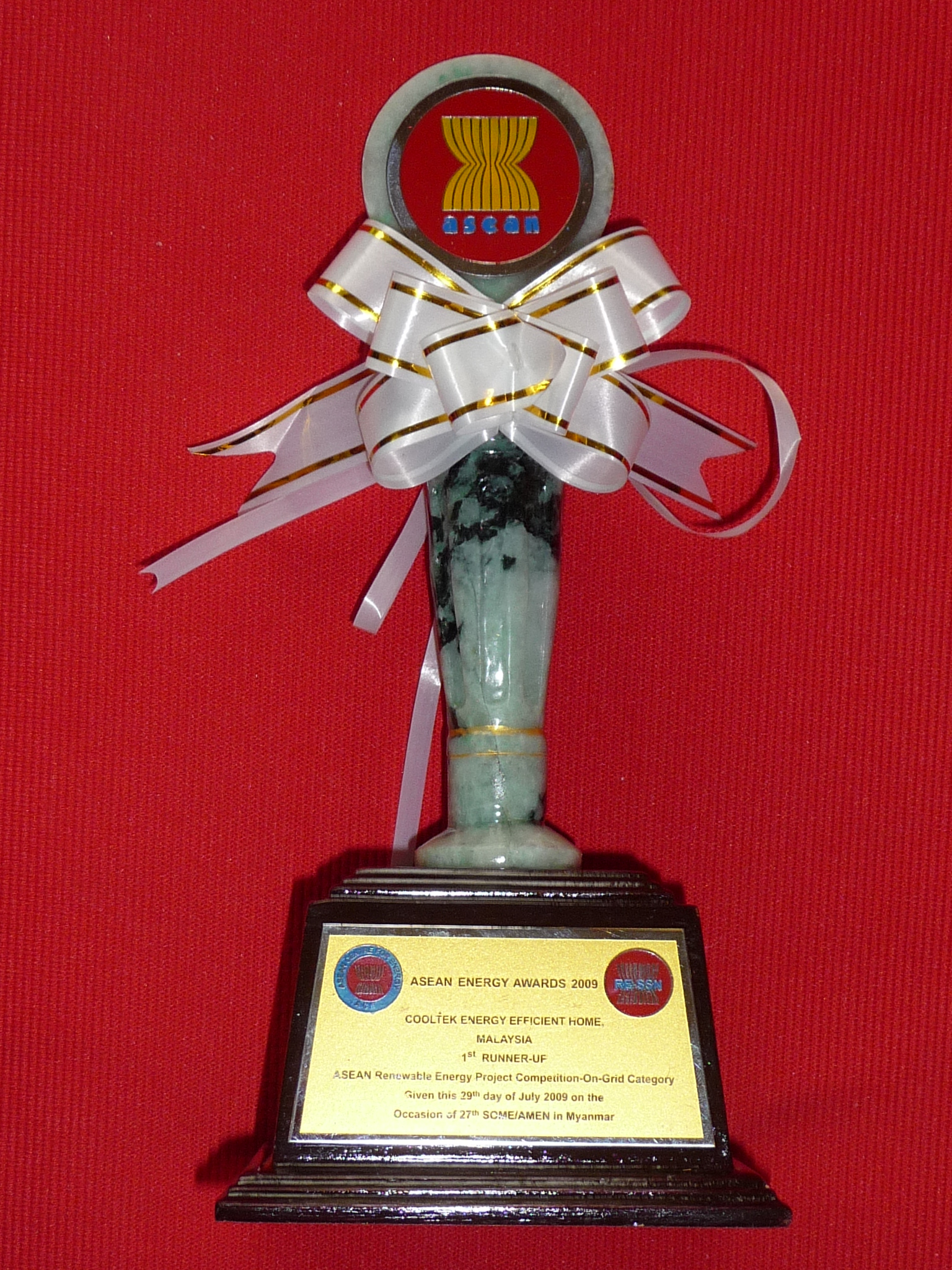 We are pleased to announce our energy efficient home COOLTEK in Melaka, Malaysia has been successful in the ASEAN Energy Awards 2009. The event is held annually and strives to promote awareness of the need for Energy Efficiency and Energy Conservation throughout the ten ASEAN countries.
COOLTEK was entered under the ASEAN Renewable Energy Project Management Competition - On-Grid Category, judging for which was held on 27-28 May 2009 in Vientiane, Lao PDR and presentation of the award was made in conjunction with the 27th ASEAN Ministers on Energy Meeting (AMEM) on 29 July2009 in Mandalay, Myanmar.
We are pleased to congratulate Pusat Tenaga Malaysia, who were the overall winner of this category with their multi-million Ringitt ZEO building, with COOLTEK being the First Runner Up and the Muhammadiyah of Malang University, Indonesia (Micro-Hydro Power Plant) being the second runner up.
We understand we are the first Europeans to be honoured this way, and that COOLTEK is the first private residence to be recognised in these competitions.
The report describing COOLTEK entitled ENERGY EFFICENCY WITH RENEWABLE ENERGY (see link below for a copy), describes the features which make COOLTEK extremely energy efficient and provides data on the operation of the Building Integrated Photovoltaic installation. It shows that COOLTEK uses just 6% of 'fossil fuel produced' electricity, that a standard Malaysian built home would use to provide the same comfortable environment.
This award recognises our efforts made to ensure a minimum impact on the environment and the direct saving of over three and half metric tonnes of carbon dioxide entering the atmosphere per year.
We would li
ke to thank the judges for honouring us, the many Malaysians who have visited our home for their encouragement and the Malaysian Government for allowing us to make Malaysia our FIRST HOME choice. We look forward to encouraging many more Malaysians to understand Energy Efficiency and Energy Conservation, and to enable them to have more comfortable and happy buildings in which to live, work, study and play.
The picture below shows Chen Wei Nee (extreme left) collecting the award on our behalf, with the other winners.