Weather at COOLTEK, in Melaka, Malaysia
A new wireless DAVIS Weather Station was installed here at COOLTEK at the beginning of 2011. It records more data, gives a general forecast and even tells how hard it is raining, as shown in the picture of the console screen. More details can be found at http://www.vantagevue.com/
Follow this link to find the weather forecast for Melaka,
or by changing location where you are!
For the last six years we have recorded temperatures that are showing alarming increases year-on-year.
The average temperature for November 2012 was 26.4oC :-
cooler than last year;

and coolest month this year;

with a highest temperature of 35.7oC reached.

On average, the relative humidity for the month of June was 93%.
Extending the trend line on the graph of monthly temperatures, it shows the trend still continues upwards over the coming year. With Malaysia's high humidity levels, living in the tropics without consuming huge amounts of electricity on air conditioning will be very uncomfortable.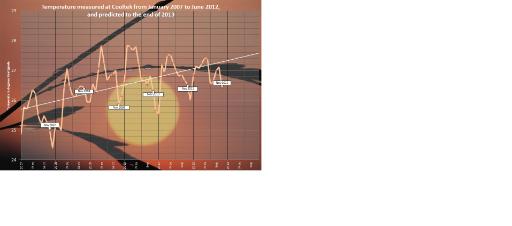 Energy Efficiency first, followed by Renewable Energy may be the only sensible answer!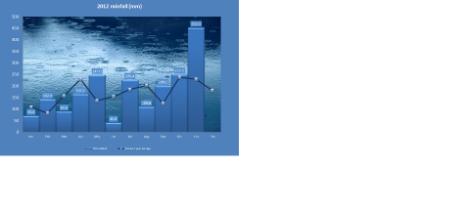 Rainfall in November was almost twice the average for the same month in previous years, with record breaking 452mm falling.
For these eleven months of 2012, 6% above the average of rain has fallen compared to the same period in previous years, adding to the worries of flooding.
Rain fell on only 21 days during the month with the wettest day on 19th when 117mm fell. With so many rainy days, the amount of solar energy produced was disappointingly low.

Below are some of the extremes recorded since 2006.
Wettest day 30-Oct-09 121.0 mm
Hottest temperature 03-Mar-10 37.6 C
Coolest temperature 11-Jan-19 20.8 C
Highest Thermal Index 04-May-10 54.6 C
Max gust of wind 30-Jul-07 43.5 kph
Hottest month ever Feb-10 27.86 C
Coolest month ever Dec-07 24.4 C
Driest month ever Jan-09 20.4 mm
Wettest month ever Nov-12 452 mm
Windiest month ever Aug-08 1.34 kph
Maximum rain rate 11-Sept-11 281 mm/hr
Page last updated 3 July 2012